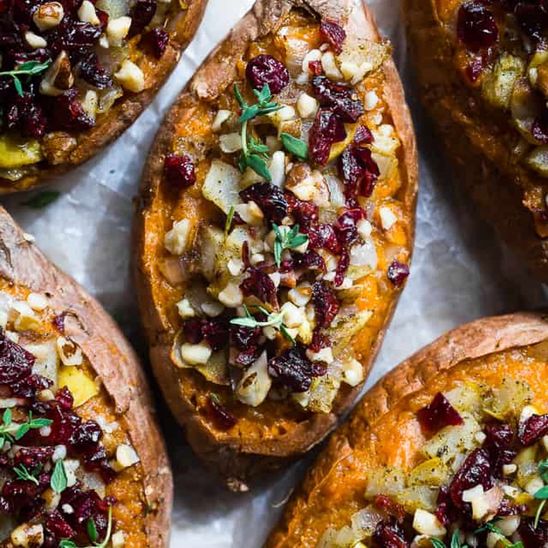 28 Day Vegetarian Reset
By Kate @ Babaganosh
$8.33/mo (Billed Annually)
4 weeks of vegetarian and vegan recipes for breakfast, lunch, & dinner to help you reset your diet.
28 days of vegetarian and vegan breakfast, lunches, dinners, and a few bonus snacks to help you reset your diet and enjoy healthy, delicious, filling, satisfying meals without all the meat. Most recipes focus on lots of veggies, wholesome grains, legumes, fruit, but do include the occasional pasta, butter, cheese, and eggs - because we are not saints!
28 days is the perfect amount of time to commit to vegetarianism without being overwhelmed by a huge lifestyle change, and long enough to make it a habit if that is your goal!
I will be with you every step of the way - if you have any questions or need substitution ideas, just send me an email: babaganoshblog@gmail.com
With a Full Access Subscription to Kate @ Babaganosh on Prepear you get access to every meal plan, cookbook, and recipe (without ads) from Kate @ Babaganosh on Prepear. More info below.
Get Full Access to Kate @ Babaganosh on Prepear
Start My 14-Day Free Trial
Sample Recipes from Meal Plan
Whipped Cottage Cheese with Almond Butter and Bananas
Spiced Pinto Bean Salad with Avocado Dressing
Healthy Peanut Butter Fruit Dip – 5 Minute Recipe!
Buckwheat Bowls with Roasted Vegetables
Banana, Cinnamon, and Chia Seed Muffins with Pecans
White Bean Kale Soup with Root Vegetables
Vegan Cookie Dough Oatmeal Breakfast Bars
Green Lentil Tabbouleh Salad
Creamy Fruit Salad with Key Lime Dressing
Choose a meal plan from Kate @ Babaganosh to get started.
Customize your plan for your family's needs.
Get your groceries done for you with curbside pickup or delivery.
Cook Mode makes cooking from your phone a breeze.
What's Included with a Full Access Subscription to Kate @ Babaganosh
Recipes
Cook every Kate @ Babaganosh recipe free of ads.
Start My Full Access 14-Day Free Trial
Then, $8.33/mo Billed Annually
Cook Kate @ Babaganosh recipes ad-free
Check off ingredients while you cook
Save your favorite recipes in personalized cookbooks
Fully Customizable Meal Plan
Add or remove recipes, then adjust the servings to fit your family's needs.
Accessible
Access your recipes, meal plan, and shopping list everywhere with the Prepear app for iOS and Android, or even on your computer.
Save and Organize Recipes
Create your own recipes or import any recipe from the internet into your own personalized cookbooks.
Printable
Print your recipes, meal plans and grocery lists from your phone or computer.
Customized Grocery List
Create your grocery list in just a few clicks from your customized meal plan.
Grocery Delivery / Curbside Pickup
Save time by ordering your groceries through the Walmart grocery integration.
Reminders to Keep You On Track
Make sure your meals are done on time with menu and recipe reminders.
Kris c2233

"Saves Me So Much Time!This app saves me so much time!! The cook mode is amazing. It makes it so you don't have to scroll from ingredients to directions and the best part, it keeps the screen from going black and having to unlock your phone or iPad mid recipe."
Courtney S.

"CustomizableIve been struggling with meal planning lately, discovering this app has been extremely helpful. Finding recipes and being able to just transfer the needed ingredients directly to my shopping list is great. You can also change the amount of servings and it will adjust the recipe for you, given I usually need to make recipes smaller as a single mom this is very useful."
wlh19283746465

"Every Mom Needs This App!This app makes meal planning and grocery shopping so much easier. I have 4 kids so I don't have a lot of free time to meal plan, create a shopping list, then do said shopping. I love Walmart grocery pick up and didn't think it could get easier but Prepear made it easier."
Lisa M.

"This is a fun app!This is a fun app. Add your own recipes or look up new ones. Love the meal planning. It helps keep the "whats 4 dinner" question at bay."
bbnnjohn

"No More Endless Blog Scrolling!I have meals dropped into my digital planner and it generates my shopping list for me! I no longer worry about what we are having for dinner because Prepear truly has taken the stress out of meal planning and shopping. No more endless blog scrolling, super cool cook mode feature makes it easy to see ingredients and recipe at the same time."
Victoria T.

"Search for special dietsThis is an awesome meal planning app and the only one I use now. You can search for special diets, including gluten-free. Each recipe has the option of generating a shopping list for you, so you have everything you need when you go to the store. Ive got about 11 cookbooks saved in here!"
lisalyme

"Store Everything Together!I came across Prepear whilst I was rushing, trying to look up recipes and write a grocery list. This is great... I can store everything together in one place and it's so easy to navigate too. Love that I've found it as it's making daily life so much easier!"
Lisa M.

"Done for you planning!My favourite thing is using the premade plans. I dont have to figure out what to put on the calendar. Does every meal work for our family? Nope. But at least it gives me a base to work from - like if there is a noodle dish that wont work for us, I know that I can make a noodle meal that night, etc. I am thankful that I can drag recipes around on the plan so easy."
pizza lover 26

"Great Customer Service!Easy to use and when I did have a question, they responded quickly with the answer. Try it, you'll love it too."
Kate @ Babaganosh Full Access subscription is delivered through the Prepear App.
What do I get with Full Access?
Get full access to every Kate @ Babaganosh meal plan, cookbook, and recipe on Prepear.
4 Meal Plans,
valued at $29.97
0 Cookbooks,
valued at $0.00
317 Recipes (ad-free),
valued at $99.99
TOTAL VALUE: $129.96
Get it all for $8.33/mo Billed Annually
Get started with a 14-day FREE trial, by clicking the button below.
Pick the meal plans and cookbooks you want to start with.
Your Prepear account will then be loaded with all your Kate @ Babaganosh Content.
Start My Full Access 14-Day Free Trial
Then, $8.33/mo Billed Annually